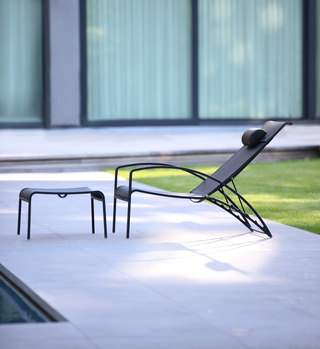 Family:
Q-T
Manufacturer:
Royal Botania >
Designer:
Kris Van Puyvelde
Year:
2010
Architonic ID:
2038334
Even though comprising ver y slim stainless steel profiles, the concept has been carefully studied to not only offer maximal stability, looks and comfort, but also to ensure that both the chairs and the loungers are easily stackable. What other name to give these cute pieces , than….. QT !

Some say the QT range gets its name because the items look 'cute'. Others have suggested it is because these chairs, loungers and foot rests are ideal for spending 'quality time'. Each QT piece is an exercise in minimalism. The stainless steel profiles, all of which are now available in coated black stainless steel (and in coated white or pearl grey on request), look incredibly slim. At the same time, when you sit down or lie back, you feel incredibly secure as well as comfortable. This is because every item has been designed to provide a level of strength and stability that defies its light weight and slim
construction. What's more, all of the QT chairs and loungers are stackable. No wonder so many Royal Botania customers are 'quite taken' with them.